Meet John Dykstra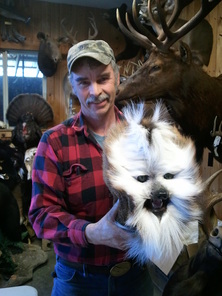 I have always had an interest in the outdoors and have hunted, fished and trapped since I was 10 years old and tagged along with my father long before that.I started doing taxidermy as a teenager using some old mail order taxidermy lessons my Dad had gotten. Didn't do much until after college. I got a BS degree in Wildlife Management from the University of Maine in 1979. In 1980 Northland Taxidermy was started as a partnership in the upstairs over a 2 car garage in Old Town, Maine. In 1984(after graduating from the University of Maine with a BS in Mechanical Engineering) we moved the business up the road to a shop attached to my business partner's house. When he sold that house to build a new one in 1993 I took over sole ownership and moved to the current location in Alton, building a new shop located just 50 yards from my own house.
Being that close to the "office" has its good points and drawbacks as well. Customers show up at all times of the day and night and weekends. But that is expected and makes it convenient to serve them as well. We try our best to accommodate our customers' needs. At times when the weather is warm it is necessary to take care of their trophies quickly to avoid spoilage. We have a walk-in cooler and a number of freezers to facilitate that.
We have always strived to do quality work at a reasonable price and to treat our customers as we would like to be treated. I ran the business basically by myself with some help from my wife and sons up until about 2009 when Rachel Rounds took an interest in becoming a taxidermist as well. She had been helping out part time for several years and had shown an interest and the artistic skill needed to be a good taxidermist. She has become a reliable and skilled full time worker, and became a licensed Maine taxidermist in July 2011.
My youngest son, Dan has helped out tremendously with our fish mounts doing a tremendous job on finishing and painting most of them for the past few years. He just got his BS in Mechanical Engineering from Maine in May 2011, but has been working locally and is still painting fish.
With the help of these 2 artists we have gotten our return time back down to a more reasonable wait. We can now get most things back to the customer in less than a year, and some things in only a few months.
Word- of -mouth is our best advertising and satisfied customers will keep coming back. We look forward to serving both our past and future customers, preserving your trophies and memories with quality craftsmanship and artistry at a reasonable price.
John Dykstra
260 Alton Tannery Rd.
Alton, ME 04468
207-394-2031
---